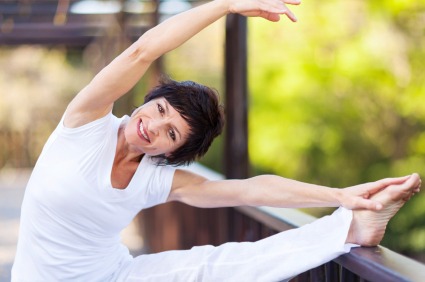 Whether you're young in age or young-at-heart, there are simple steps you can take to keep your metabolism motor humming so you're blasting away calories at the highest rate possible.

4 Ways to Fuel Your Metabolism
As you age, your metabolism slows down. Older people also tend to have less muscle mass than younger people, which also reduces metabolic rate. (This is why we encourage older post-bariatric patients to add light weight-bearing exercise to their fitness routines.)
Here are four proven tools to help keep your metabolic rate up, regardless of your age.

1. Exercise regularly.
This is the big one. You need to prioritize moving every day.
Indoctrinate a 30-minute daily work-out just like brushing your teeth and eating lunch — make it part of your day. Studies show that older people tend to push this vitally important health habit by the wayside, just as it becomes more important than ever. And lift some light weights twice a week to fight back against muscle loss (you will thank me sooner than you think!)
The Centers for Disease Control and Prevention (CDC) recommends adults 65 and older get 2.5 hours of moderate-intensity aerobic activity every week and perform strengthening exercises on all the body's major muscle groups at least twice a week.

2. Get enough sleep.
To increase the chances of boosting metabolism, adults should get seven to nine hours of sleep each night.
Getting too little shut-eye can significantly alter your body's processes enough to predispose you to gain weight. (Do you ever feel hungry for no reason when you're exhausted and then reach for the wrong foods to boot?)

3. Take time to de-stress.
When you're tense and stressed, your body releases cortisol, a hormone produced by the adrenal system that is linked to weight gain. It can also significantly weaken your immune system and open the door to acute and chronic illnesses.
If you're experiencing extreme stress, look to regular physical activity, deep breathing, a quiet evening stroll, or professional help from a psychologist or counselor.

4. Eat often and eat smart.
Even if the volume of your meals is smaller following weight loss surgery, food (including your protein shakes) fuels your metabolism to keep it firing on all cylinders.
As soon as you awaken, wake up those calorie burners by feeding them whatever has been prescribed for your breakfast. Then eat small meals throughout the day but try to stop by around 7 p.m.

A Roadmap to Better Health
I'm partial to this list because other than adding in eating right and finding spiritual solace in your life, these tools are really a roadmap to good health. And none of them are difficult to achieve. It just takes a little willingness to change and a little effort to get going.
Best of all, once you've adopted these tips, you will look and feel better sooner than you think!
---
About Dr. Seun Sowemimo, MD, FACS
Dr. Seun is a top NJ bariatric surgeon and the medical director at Prime Surgicare, with offices in Freehold serving Monmouth and Ocean counties. He is board-certified, Columbia and Yale University fellowship-trained in advanced laparoscopic, bariatric and general surgery.
To learn more, visit his YouTube channel or call Prime Surgicare at (732)-982-2002.